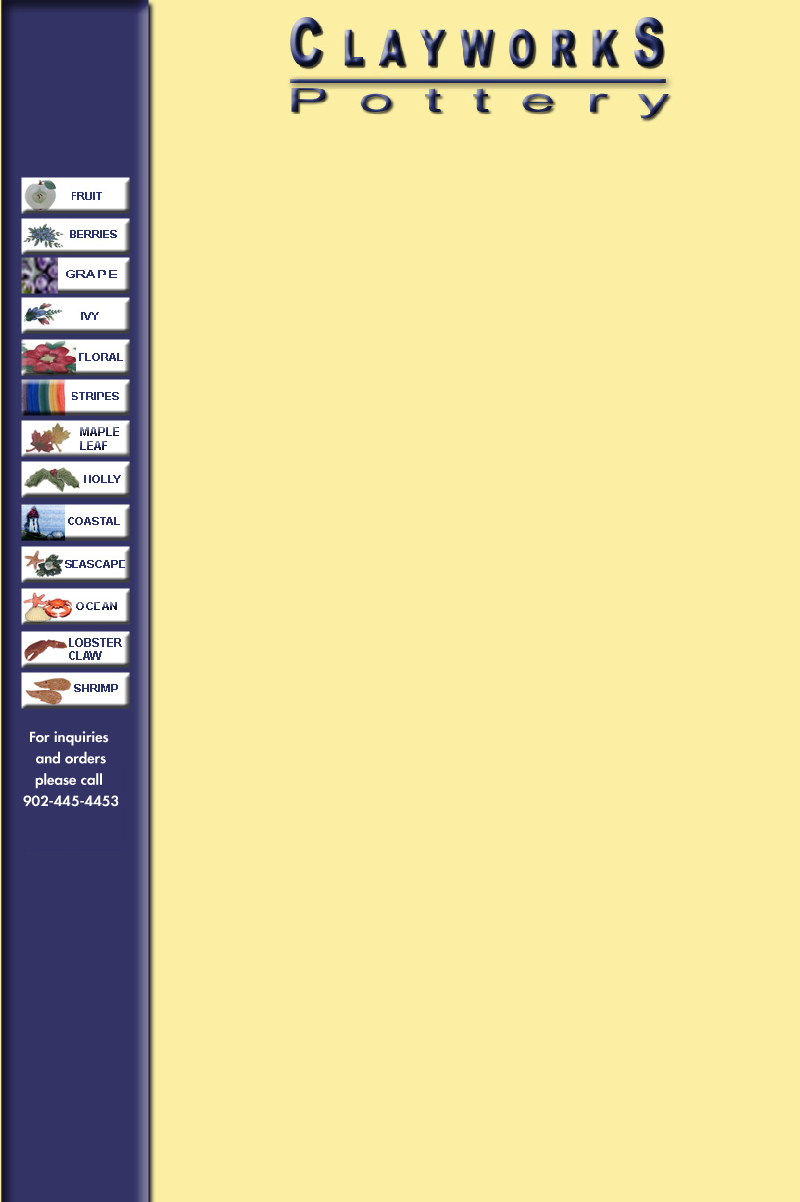 Clayworks' Pottery is hand-crafted on the potter's wheel. Each piece is glazed and hand-painted with our unique and colourful brushwork decorations.
Our pottery is functional as well as decorative. It is dishwasher, oven, microwave safe and lead free.
Important Note: NEVER put pottery directly from fridge into oven and NEVER put it on a stove top.
Sharon Fiske Clayworks Pottery
629 Bedford Hwy.
Halifax
Nova Scotia
902- 445 - 4453
Clayworks Special Recipes
Artichoke Dip
1 can of Artichoke Hearts, well drained and chopped fine
2 Cloves Garlic, crushed and chopped
1 Cup of Mayonnaise
3/4 Cup Parmeasan Cheese
Dash Worchestershire Sauce
Mix ingredients. Spread in Clayworks mini baker or pie plate then bake at 350 degrees for 8 to 10 minutes. Do not overcook. Serve with crackers or vegetables.
Clayworks Smoked Oyster Paté
1 Tbs milk
1 Tbs Mayonnaise
1 Tbs green onion
4 oz. tin of smoked oysters, drained and chopped
4 oz. pkg cream cheese, room temp.
Freshly ground pepper
Squeeze of lemon.
Blend all ingredients. Spoon paté into dip platter. Cover with plastic wrap. Chill at least 4 hours. Serve with crackers.
Clayworks Salmon Paté
1 tbs. mayonnaise
Small onion, finely chopped
7.5 oz. tin of sockeye salmon, drained and deboned
8 ox. pkg. cream cheese, softened
1 tbs. fresh dill weed or 1/2 tsp. dried dill
Blend all ingredients until smooth.
Shape mixed ingredients into ball.
Sprinkle with 1/2 cup chopped pecans and fresh chopped parsley. Serve either style with crackers.
Herbed Chive Dip
2 cups sour cream
1/2 cup mayonnaise
1/4 cup chopped cives or green onion
1 clove minced garlic
1/4 cup chopped fresh parsley
1 tbsp dried dillweed
1 tbsp lemon juice
Salt and pepper to taste.
Blend together and chill
Clayworks Chili and Cheese Dip
1 tsp olive oil
1 onion, finely chopped
1 clove garlic, minced
1 jalapeño pepper, finely chopped
1 tsp chili powder
1/2 cup sour cream
2 cups old cheddar cheese, grated
Sauté vegetables over low heat in a heavy saucepan. When soft, stir in chili powder and sour cream. Add cheddar and stir until cheese just begins to melt. Remove from heat and spoon into serving dish. Serve with corn chips.
Gourmet Cheese Ball
1/2 lb. cheddar cheese, grated
1/4 lb. blue cheese, crumbled
1/2 lb. cream cheese
2 tbsp. minced onion
2 tbsp. minced parsley
1 cup chopped nuts
1/4 cup sherry
Combine Blue and Cheddar, mix in Cream Cheese.
Blend in rest of ingredients and form into a ball. Roll in nuts or parsley. serve with crackers or raw vegetables.
Coconut Fried Shrimp
1/2 lb unpeeled medium size fresh shrimp
3/4 cup pancake mix
3/4 cup beer
1/4 cup all purpose flour
1 cup flaked coconut
Vegetable Oil
Combine pancake mix and beer in a small bowl. Stir until smooth. Peel shrimp, leaving tails intact. Pour oil, to 2" depth, into Dutch oven. Heat to 350 degrees. Dredge shrimp in flour, shake off excess. Dip shrimp into batter. Dredge in coconut. Fry, a few at a time, 45 seconds on each side, until golden. Drain on paper towels. Serve with Apricot Sauce.
Recipe compliments of "The Bubba Gump Shrimp Co. Cookbook"
Apricot Sauce
1 cup apricot preserves
4 oz./ 125 gram jar diced pimento, drained
2 ½ tbsp white vinegar
Combine all ingredients in sauce pan. Bring to boil over medium heat, reduce heat and simmer 3 minutes, stirring occasionally. Cover and chill.