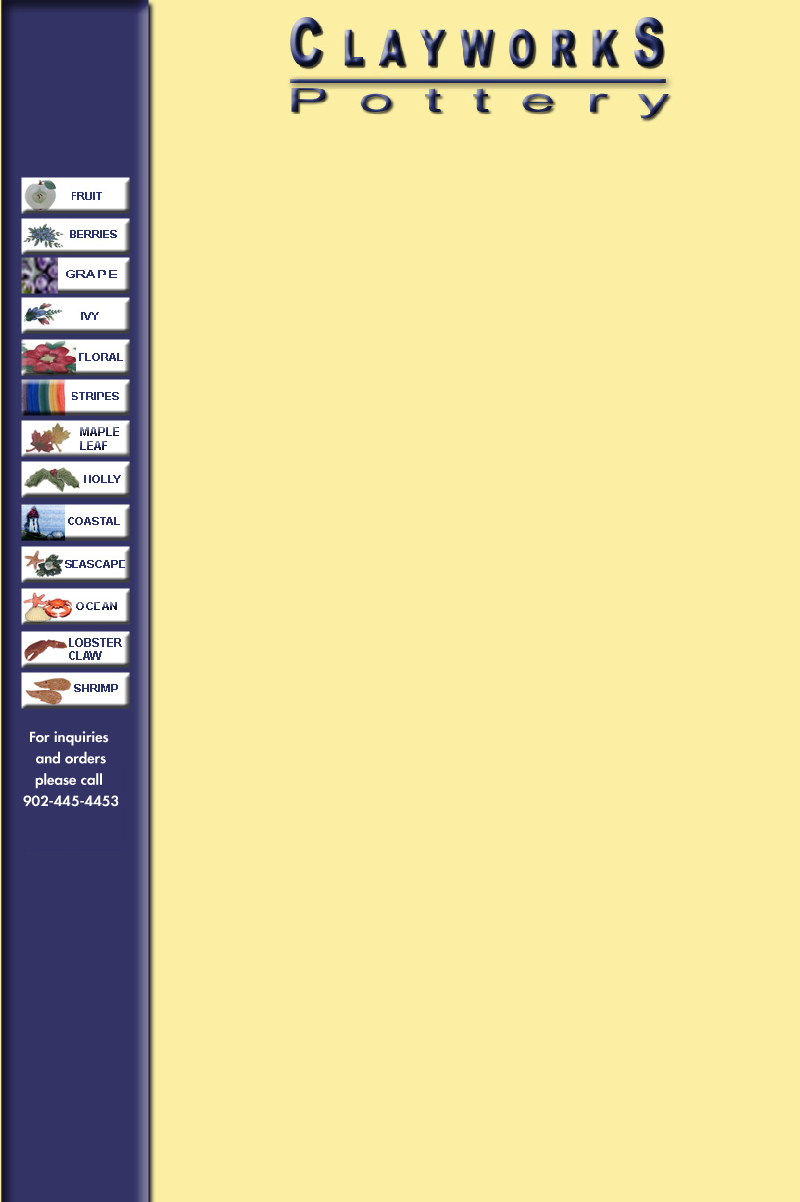 Clayworks' Pottery is hand-crafted on the potter's wheel. Each piece is glazed and hand-painted with our unique and colourful brushwork decorations.
Our pottery is functional as well as decorative. It is dishwasher, oven, microwave safe and lead free.
Important Note: NEVER put pottery directly from fridge into oven and NEVER put it on a stove top.
Sharon Fiske Clayworks Pottery
629 Bedford Hwy.
Halifax
Nova Scotia
902- 445 - 4453
Sharon Fiske-Muise has been operating her business on the Bedford Highway for 20 years and she finds inspiration from the view looking out over the Bedford Basin.
With windows and doors flung open and the glistening ocean filling the vista, Fiske-Muise said she couldn't find a better spot to work.
"I've created a new look for my line of pottery with a real Maritime flavour in the designs", she said.
"It's a seascape coastal look. I did this because I wanted to get back to my roots and develop what is around me as an artist, because we are being taken over by the world and its global economy. I thought that when people traveled they should really go to a place and be able to pick up something that is locally made; hand-crafted from people who actually live there."
Fiske-Muise has been in business as a potter and decorator for 25 years and has been operating Clayworks Pottery for 20 of those.
"We haven't scaped the sailboats and bridges in the Basin around a pot yet, although it's a gorgeous view."
The new Coastal line features lighthouses with a background of daylight or sunset colours and is one of about 13 different patterns in store.
The shop is a myriad of pottery pieces including brie bakers, butter warmers, shrimp cocktail platters, lobster platters and unique items Fiske-Muise's father suggested she make, such as shrimp shell holders and lobster shell bowls.
"We have anything you need for entertaining or we will make it," she said.
For the lobster bowls, she and her staff of potters painstakingly mold lobster claws and press them into the clay dishes. The results are amazingly lifelike and it is this attention to detail that has made Clayworks Pottery a success.
If you pop into the store you might catch a glimpse of Fiske-Muise throwing some clay on her wheel. All the pieces are made, painted and glazed on the premises and are shipped throughout the world.
Fiske-Muise has spent many years honing her craft and has trained in countries like England and Japan as well an in Prince Edward Island.
"I spent one year in England as an apprentice and worked a bit," said Fiske-Muise. "That taught me exactly what it was like to work in the field of clay and if I could do it. It's one thing going to school and learning your craft and it's another thing making it your business and your life. I found out I could."
Pottery Studio a Bedford landmark . . .
by Melanie Furlong
The Weekly News - June, 2005