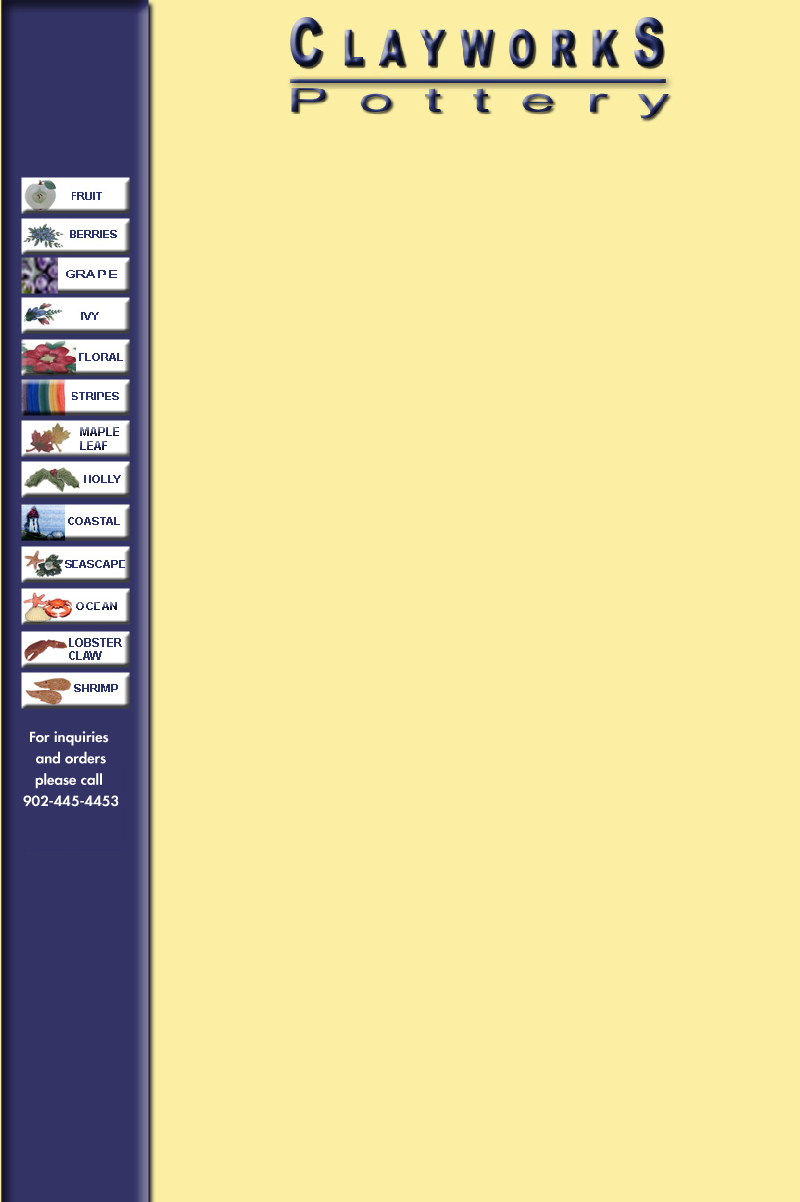 Clayworks' Pottery is hand-crafted on the potter's wheel. Each piece is glazed and hand-painted with our unique and colourful brushwork decorations.
Our pottery is functional as well as decorative. It is dishwasher, oven, microwave safe and lead free.
Important Note: NEVER put pottery directly from fridge into oven and NEVER put it on a stove top.
Sharon Fiske Clayworks Pottery
629 Bedford Hwy.
Halifax
Nova Scotia
902- 445 - 4453
LOBSTER - Enjoyed worldwide, this succulent ocean treasure has been re-created with stunning accuracy. An ideal serving dish for seafood lovers.
Availabe in: Mini Dip Platter, Cheeseball Platter, Pate Plate with knife, Butter Dip Bowl and Tea Lite.
Paté Plates include a wooden knife.
All platters include a Clayworks recipe suited to the item ordered
Available in Glaze Colours:
Lobster Dip
8 oz./ 250 gram pkg. of cream cheese
1/2 cup of mayonnaise
3/4 cup cooked lobster meat, finely chopped
1/4 cup celery - finely chopped
1 tbsp. grated onion (optional)
1/2 tsp lemon pepper
1/2 small jar of Pimento
squeeze of lemon juice
Mix ingredients. Chill for at least two hours.
Serve with crackers, bread or fresh vegetables.
Ordering Instructions:
To inquire about products please call us at 902 445-4453. Shipping and Taxes will be added upon receipt of your order. Please allow 2 to 6 weeks for delivery.
Please note: Colours and sizes may vary due to nature of production. Prices are subject to change without notice.